Discover more from Broken Palate
Where food and culture collide
Over 986,000 subscribers
In New York, The Cost of Dinner Has Never Been Higher
The restaurateurs aren't happy about it, either, by Air Mail's Alan Richman
The year was 1986, and New York's new Le Bernardin had just received a four-star rating from The New York Times. As I was leaving the restaurant, a gentleman in front of me blurted out, "I would eat here every night if it wasn't so expensive!"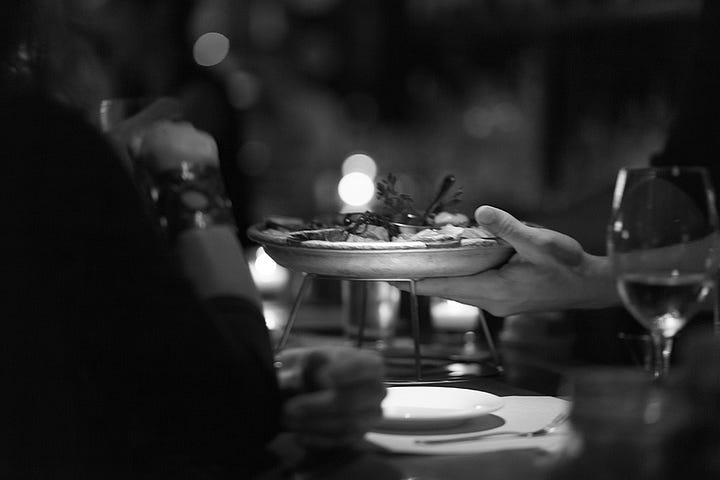 The cost of the fixed-price, three-course meal back then was $55. The next year it rose to $60. The word "inflation" was on nobody's mind.
New Yorkers these days consider the price of dinner a prime topic of conversation. This past October, a breaded, fried veal chop at one of my favorite Italian restaurants, Sandro's on the Upper East Side, was $50, a startling figure. Today, that same veal chop is $55, meaning it rose at an annualized inflation rate of 9 percent.
Not intimidated by the price? In that case, I can direct you to a restaurant where the veal chop is $89.
I asked a number of New York chefs, all from highly regarded restaurants, to explain these rising prices. Some allowed me to use their name, but many asked to remain anonymous, perhaps dreading a negative reaction from customers. Not one disputed my premise that prices had reached record heights with no relief in sight.
One chef, anonymously, blamed Donald Trump: As president, he hindered immigration, a source of lower-wage workers vital to the industry. The minimum wage is $15 an hour in New York, but many restaurants are paying as much as $25—that's $37.50 for overtime—due to a shortage of kitchen help.
The chef of a two-Michelin-starred restaurant offered insights into the rising cost of necessities. Butter, the non-fancy kind, is up from $2.44 per pound to $4.30; fingerling potatoes, from $1.75 per pound to $4.75; frying oil, from 65 cents per pound to $1.73; heavy cream, from $3.75 per quart to $6.75.
And, the chef added, vendors have begun charging for deliveries.
Another said, "Salaries are crazy. The minimum wage used to be $15. Now young people with no experience tell us how much they want." He added, "Pre-COVID, you could make your margins: 30 percent food, 30 percent salaries, 30 percent operating costs. If you respected that, you make 10 percent in profits. Everything was pretty good."
He added, "I see prices going down in houses and cars. I don't see food going down."
Jose de Meirelles, owner of the cherished kosher steak house Le Marais, says kosher restaurants face identical problems. Plus, they have an added labor cost: a mashgiah on the premises to certify their food. The price of kosher meat, he added, has risen by 40 percent in the past five years.
There is little escape from the hundred-dollar-per-person dinner in New York. Actually, that bill would be considered moderate. Prestigious establishments offer much more expensive fixed-price meals. Four courses at Daniel are $188; six at Jean-Georges, $268; four at Le Bernardin, $198; nine at Per Se, $390. That's per person.
Should you find yourself paying less than $100 for your meal, you are either very fortunate or drinking ice water with dinner.
There is little escape from the hundred-dollar-per-person dinner in New York. Actually, that bill would be considered moderate.
I used to shiver in delight when handed a massive wine list in a New York restaurant, knowing I could seek out an overlooked bottle of Bordeaux or Châteauneuf-du-Pape at a price that hadn't risen in years. Not anymore. I suspect New York wine lists are now curated by accountants, not sommeliers.
One example is the wine list at Gramercy Tavern. It offers more than a thousand wines in the traditional 750-ml. format, but fewer than 10 percent of them cost less than $100. From the list, I randomly picked a bottle of Bernard Baudry Chinon Les Granges 2021 for analysis. It likely cost the restaurant $14 to $16. On the wine list, it is $88. Add tax and tip to the bill, and you will probably pay about $115 for a bottle that sells for $20 in a wine shop.
Lately, I've been drinking a lot more beer when I go out.
Adam Leonti, chef of the wonderful new Cucina Alba, noted that he offers a three-pound short rib that feeds six to eight for $148. "We give the best value we can," he said—"competitive pricing for the neighborhood." Then he added, "The rent is absurd."
»Related Reading: That Fancy Tasting Menu Date Is Going to Cost You $1,000 » Read Here
Amanda Cohen, chef-owner of the beloved vegetarian restaurant Dirt Candy, said of her prices, "Food used to be 25 percent of our cost of doing business. Now it's 12 percent. The money goes to pay our staff."
Daniel Rose, chef of the celebrated

Le Coucou

, believes "the days of the great restaurants may be over."
He pointed out an unexpected challenge to their survival: "The people who work in restaurants can no longer afford to live near their restaurants, at least not in New York." Rents for New York apartments have accelerated in the past year, as the coronavirus has faded. Added Rose, "Before, restaurant workers could live two subway stops away. Proximity was part of the greatness of New York. No longer. And people have less tolerance for what it takes to get to work."
Having said that, he noted, "When was it ever possible to go to New York and not take out a second mortgage to pay for it?"
Thomas Keller, the owner of Per Se, pushed back at my premise that N.Y.C. restaurants are becoming alarmingly expensive. "Go to Paris or London," he said. "It's far more expensive to eat there than in New York. I don't know why people are always talking about New York prices. Eating is not always about bargains. It is also about value, about an experience. You buy a Mercedes, you are comfortable with what you spend."
To be fair, it seems that posh restaurants are not the only dining establishments absorbing financial blows. A recent front-page headline in the New York Post announced a dreaded development in the near-sacred business of selling pizza by the slice. It read, LAST DOLLAR SLICE IN NYC IS NOW $1.50.
---
»IN CASE YOU MISSED
A journey into Mendoza, Argentina's undiscovered vineyards and the home of its most storied producer, Catena Zapata by Air Mail's Mark Rozzo and Ashley Baker on the Ozempic craze » CONTINUE READING
---
A former sportswriter for the Philadelphia Evening Bulletin, Alan Richman has won 16 James Beard Foundation Awards for his journalism on food and wine, and a National Magazine Award for feature writing
Illustration: Heritage Images/TopFoto. Photos: Aleksey Butenkov/Alamy (apple); antoniptruzzi/iStock/Getty Images (plate); Mike Kemp/Tetra Images/Alamy (money fork); © Swim Ink 2, L.L.C./Corbis/Getty Images (skyline)